Residents of the damaged Mascot Towers block are expected to be out of their homes for at least a month, as engineers scramble to determine the cause of cracks to the decade-old building.
The owners voted to pay for a $1.1 million "special levy" by August to fund urgent repairs to the building at an extraordinary general meeting that stretched four hours and ended about 11pm on Thursday.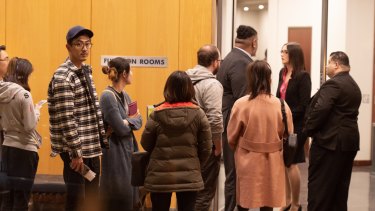 Ninety-four per cent of owners were in favour of the levy.
Apartment owner Fabiano dos Santos said there was "some anger and frustration" among residents about the initial cost – which meant he would likely have to pay about $8000.
"If it was $1 million to fix the situation, it would be sweet.
"But that's not the case, it's just to pay initial costs. We're not happy with that because it's not going to be the last [payment].
"[But] I guess we're stuck there now."
The owners have previously voiced fears they could eventually have to pay more than $5 million to fix the damage.
Owners and tenants of the 132-unit block in Sydney's south have been in limbo after they were
evacuated on Friday night
 when "ongoing and persistent" cracks to a support beam widened.
Those who lived in 64 of the worst affected apartments would likely be allowed to return for 30 minutes to gather personal belongings within the next week – possibly as soon as Saturday – according to initial engineering advice.
A spokesman for the owners' corporation, Patrick McGuire, said on Thursday that the engineers needed more time to determine the cause and scope of the damage.
"Engineering advice is that instability in the [worst-affected] red zone has improved to allow possible access next week, if not earlier but that instability is still evident in other areas of the apartment complex.
"Currently the structure is being monitored and we will review the data when available. Additional engineers have been appointed to review current assessments and to provide additional support."
It is unlikely that report will be completed in the next four weeks. "Owners should not expect an early return to the building for general occupancy," Mr McGuire said.
He said it was too early to speculate on whether the damage was linked to construction on a neighbouring apartment complex, or to long-running building problems at the site.
"The issue of whether adjoining apartment complexes played any role in the issues confronting Mascot Towers cannot be determined until detailed engineering advice is to hand," Mr McGuire said.
The building was developed by John Elias. Mr McGuire said the owners' corporation understood the towers' builder and developer was "no longer trading and was placed into administration some years ago".
'We don't trust them anymore'
More than 100 owners filed into the meeting at the Holiday Inn at Mascot about 7pm. A separate meeting for tenants was being held nearby at the same time.
Before the meeting, apartment owner Jeffrey Jin said he felt "hopeless".  "I think everyone's seeking a solution tonight."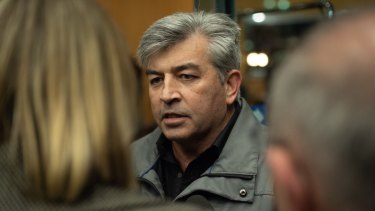 Mr dos Santos hoped to find out how long he and his partner would homeless for, but said "in reality, we're not expecting a lot of information".
"I think they've been missing the point from the start. Everyone's sleeping in living rooms, living with friends. They're forgetting the human side."
Real estate agent John Higgins, who represents about a dozen tenants at the building, said the displaced residents "just want to know how long it's going to be".
"I've got a few residents here who can hold on a month, I've got other tenants who can't hold on another week."
About 100 tenants met at the Stamford Plaza Sydney Airport. They wanted to know when they would be allowed to retrieve their belongings and whether they could return for longer than the 30-minute period.
One tenant, who didn't want to be named, felt the meeting had been "pointless", with little information given to the residents.
RELATED ARTICLE
"I want that half an hour [to collect personal belonings], and I hope that they are true to their word," she said. "But I'm not going to get too excited about it until I get it."
The woman has cancelled her tenancy in response to the possible four-week wait to return.
"We just want to get our things back," she said. "We're still annoyed over the whole thing.
"At first we thought maybe we'll wait and see, but there's been no communication and we don't trust them any more"
The owner's corporation members invited Premier Gladys Berejiklian to join them at Thursday's meeting but Mr McGuire said she had declined to attend.